Citrusy Coconut Chicken with Noodles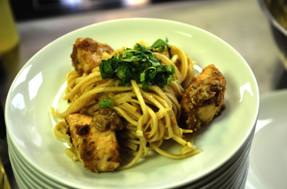 Courses: Main
Serves: 10
Prep Time: 1 hour
Cook Time: 20 minutes

Ingredients
20g ginger
20 garlic
20g coriander leaves
30g desiccated coconut; Toasted
5g mint leaves
60g onions
4g salt
½ lime zest
½ lime juice
750g chicken
For the Noodles
400g fine egg noodles; Dehydrated
6g coriander leaves
6g spring onions
20g sesame seed oil
Instructions
Preheat the oven to 220C, Fan 200C, Gas 7.
Blend chicken marinade ingredients coarsely. Add Karimix Citrus & Lemongrass Sauce and mix well.
Marinade chicken pieces and leave for 20 minutes.
Bake covered in oven for 20 minutes then brown under grill.
Finely slice coriander and spring onions leaves. Put aside.
Rehydrate noodles, drain and mix in Karimix Teriyaki Wasabi Sauce, sesame seed oil and then coriander and spring onions.
Serve chicken with noodles garnished with toasted desiccated coconut.
Tip: 
Use
Karimix Szechuan Sauce
to marinade noodles as an alternative!