Ginger Salmon Teriyaki with Crispy Spicy Rice Cakes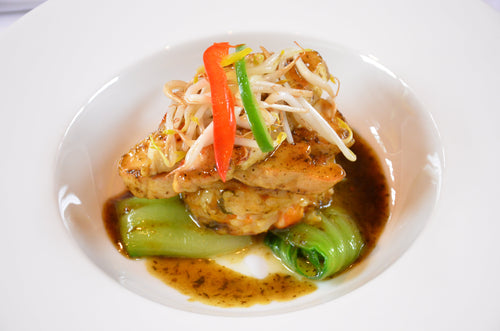 Courses: Main
Serves: 4
Prep Time: 60 minutes
Cook Time: 40 minutes

Ingredients
50g shallots; Sliced
40g butter
80g oil
250g risotto rice
400g vegetable stock
200g coconut milk
20g coriander leaves
10g lemongrass; Very thinly sliced
2g salt
For the Marinade
Instructions
Marinade salmon with Karimix Orange Ginger Teriyaki Sauce for 30 minutes.
Melt 30g butter in a heavy wide saucepan then add shallots and lemongrass.
Add rice and fry until rice is slightly opaque.
Add Karimix Shrimp Relish, salt, stock and coconut milk. Heat up to just before simmering point.
Add this to the small amount to rice, stirring continuously until absorbed before adding more. Continue until risotto is cooked.
Add chopped coriander.
Transfer cooked risotto to a tray and pressed to compact into a cake.
Leave to cook, the cut into squares.
Grill salmon fillets.
Heat up a frying pan with 10g butter and 80g oil. When hot, fry rice squares on one side until lightly brown and crispy. Turn over and repeat.
Drain rice cakes and serve with salmon fillet.