Hot Salmon Chowder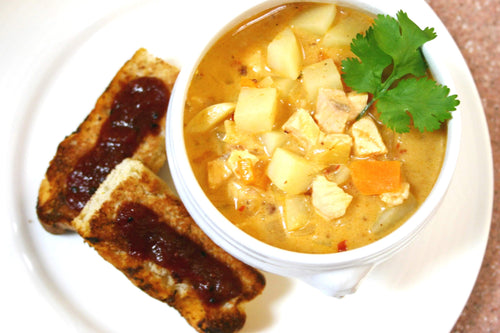 Courses: Starter
Serves: 2 as a starter

Ingredients
1 carrot diced
1 onion diced
1 clove garlic
250g diced potato
Optional: diced celery and leek
60g salmon, skinned and diced into cubes the same size as potato
60g/4 tbsp Karimix Shrimp Relish
450ml milk
1 dessertspoon oil
1 dessertspoon flour
250ml chicken stock or vegetable stock diluted
Instructions
Heat up oil in a heavy based saucepan.
Fry onions until translucent.
Add carrots and potatoes. Stir for 5 minutes.
Add garlic and stir for 3 minutes.
Add Karimix Shrimp Relish and stir well.
Add milk, water and stock.
Coat the salmon with flour.
Once the chowder is simmering gently, add salmon cubes.
Simmer for 5 minutes. Do now allow to boil.
Serve! Garnish with croutons and grated gruyere cheese if required.
Tip:
Spread
Karimix Tomato Chutney
on a small slice of crouton and float on top of chowder before serving.