Lemongrass Chicken on Spiced Rice Cakes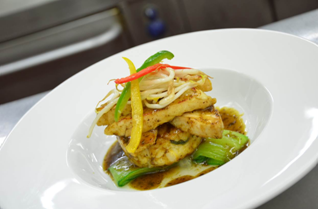 Courses: Main
Serves: 20

Ingredients
Oil for frying
6 shallots; Chopped
4 red Chillies; Finely chopped
570g risotto rice
Thai chicken stock (for the rice)
2 tins coconut milk
1 bunch of fresh coriander; Chopped
20 chicken breasts
10 baby bok choy; Cut into quarters
Thickly sliced yellow and red peppers and beansprouts to serve
Instructions
Heat the oil in a pan and cook the shallots and chilli lightly.  Add the rice, cook for a few minutes then slowly add the stock, little by little, as if making a risotto. Mix in the Karimix Shrimp Relish. When almost cooked, remove from the heat, mix in ½ of a tin of coconut milk, season, fold in the chopped coriander, then spread out on to a tray to chill.  When ready to serve, cut into rounds and lightly fry till golden and crisp.
Meanwhile, coat the chicken breasts with the Karimix Citrus and Lemongrass Sauce and marinade for 6 hours.  Remove the chicken breasts from the marinade, retaining it to use later.
In a hot pan, seal the chicken breast on both sides.  Add the remaining coconut milk and the retained marinade and braise gently until cooked through.
Serve thick slices of chicken breast piled on top of a fried rice cake with steamed bok choy, garnished with the peppers and beansprouts and a generous spoonful of cooking liquor.