Spicy Tamarind Lamb Rolls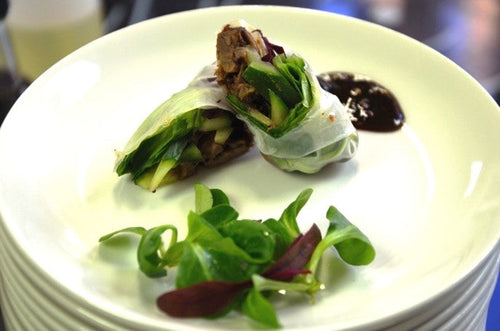 Courses: Snack
Serves: 10
Prep Time: 40 minutes
Cook Time: 20 minutes

Ingredients
1kg lamb loin stir-fry strips
4g salt
½ lemon zest
½ lemon juice
30g hot water (for roasting option)
For the filling
100g onions, sliced
100g mixed peppers, sliced
40g fresh coriander, roughly chopped
12 spring onions, sliced
1 iceberg lettuce, shredded
20 Vietnamese rice sheets
10g lemon juice
Instructions
Marinade lamb with Karimix Tamarind Chutney, Karimix Chilli Pepper Relish, lemon zest and salt and leave for 20 minutes.
 Heat oil and stir-fry onions and lamb over a high heat until lamb is brown. Then add mixed peppers and stir-fry for another 5 minutes.
 Remove from the heat and stir in the coriander and spring onions, squeeze some lemon juice and mix just before serving.
Dip rice sheets in warm water to soften as using them.
 Divide the lettuce between the rice sheet and top with the tamarind lamb and vegetables, roll up and serve immediately.
Tip:
     Try chicken or pork instead. If using leg of lamb, roast for 60 minutes until tender, then "pull" lamb into shreds for wrap.