Adobo Pork Tacos by Somerset Foodie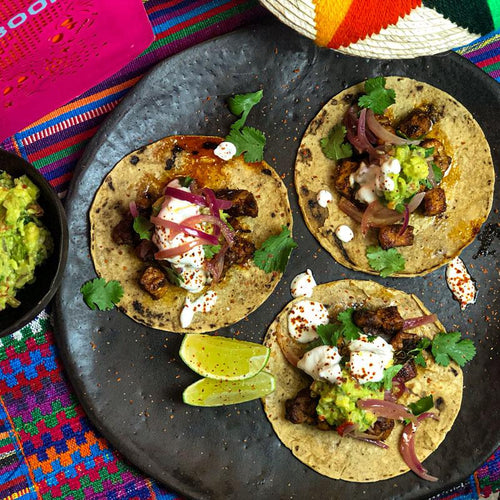 Thanks to Somerset Foodie for allowing us to feature this recipe. Please click here to see the original.
Courses: Main
Serves: 4
Ingredients
800g Boneless Pork Loin, diced into 1cm cubes

125ml Karimix Cuban Mojo Sauce

16 x Corn Tortillas

2 x Avocados, diced

4 x Spring Onions, finely sliced

2 x Fresh Limes, cut into wedges

1 x Can Herdez Salsa Taqueria

Big bunch of Fresh Coriander, chopped

Pot of Sour Cream (omit for a dairy-free diet)
For Green Tomatillo Salsa
1 x Can Green Tomatillos

½ White Onion, finely diced

1tbsp El Yucateco Jalapeno Salsa

1 x Clove of Garlic, crushed

Juice of Half a Lime

A generous spring of Fresh Corinader, chopped
For Pickled Red Onions
2 x Red Onions, finely diced

1 x Clove of Garlic, finely diced

½tsp Ground Cinnamon

1 x Fresh Bay Leave

2 x Cloves, crushed

½tsp Black Peppercorns, crushed

3tbsps Olive Oil

75ml Cider Vinegar

Sea Salt to taste
Instructions
For the Abodo Pork Tacos
Dice the pork loin into quite small 1cm cubes.

Heat a frying pan up so it's smoking hot, add a small splash of oil and throw in the diced pork. Quickly arrange them in the pan so they are evenly spread out, then leave them to develop a nice colour. After a minute or so, toss the pork around in the pan to brown the other sides. Once the pork is nearly cooked and has a lovely caramelised crust, pour in the Mojo sauce and mix the pork through. Turn the heat down and cook the pork in this sauce for another couple of minutes, it should reduce down a create a lovely coating on the meat.

Meanwhile heat up a second pan and cook the tacos for around 30 seconds on each side.

Bring your cooked tacos to the table along with the cooked pork and all the other garnishes.

Everyone will have their idea on how to build their own personal taco, but for me, a warm taco, a pile of tasty pork, salsa, onions, avocado and sour cream.
For the Green Tomatillo Salsa
Remove the whole tomatillos from the can (discarding the liquid that they're in).

You can either blitz these up in a food processor, or, to save on washing up, chop them up with a knife until they are a smooth, quite runny consistency.

Now add in the finely chopped onion, garlic clove, a good handful of fresh coriander (chopped), a squeeze of half a lime and about a tablespoon of the jalapeno salsa - more if you like it hot!
For the Pickled Red Onion
In a pan, heat the olive oil and add the garlic, peppercorns, cloves, cinnamon and bay leaves. Cook over a low heat for 3 or 4 minutes.


Add the red onion and cook for a further 3 or 4 minutes - you just want the red onions to warm through (not fry).

Add the vinegar and salt and allow to cool