Aubergine, Chickpeas and Balti Curry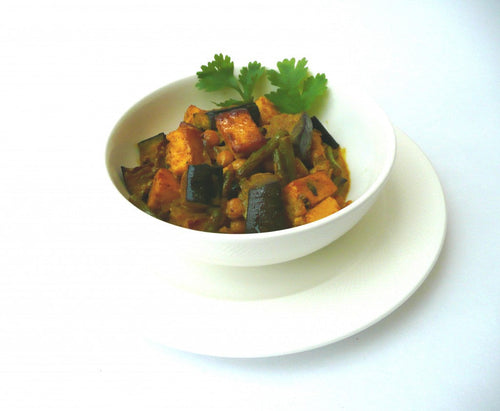 Courses: Main
Serves: 4

Ingredients
1 onion diced
1 aubergine cubed
240g tinned chickpeas, drained
240g paneer cubed
100g green beans halved
400ml coconut milk
3 tbsp. Karimix Balti Curry Paste
1 tbsp. Karimix Szechuan Sauce
6 tbsp. vegetable oil
1 tbsp. tomato puree
Salt to taste
Instructions
Coat cubed aubergine with 2 tablespoons of oil and grill until brown.
Heat up rest of oil in a saucepan. Add onions and fry till brown, then add cubed paneer and chickpeas. Fry until brown.
Add beans and Karimix Balti Curry Paste and stir well for about 10 minutes over a medium heat.
Add coconut milk, Karimix Szechuan Sauce and tomato puree. Stir well and bring to a boil.
Add browned aubergine. Stir well and simmer for 15 minutes. Add salt to taste.
Tip:
Serve with rice with other curry dishes.