Baked Cheese, Citrus and Ginger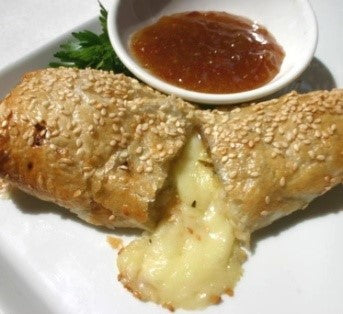 Courses: Side
Serves: 8-10

Ingredients
5 x 180g wedges of brie cut into half
500g puff pastry
1-2 eggs, lightly beaten
145ml bottle Karimix Citrus & Lemongrass Sauce
8-10 Stem ginger in syrup, sliced
75g red onion thinly sliced
Sesame seeds
Instructions
Roll out the puff pastry very thinly and cut into 10 suitable sized squares.
Place a wedge of brie in the centre of each square, brush the cheese liberally with Karimix Citrus & Lemongrass Sauce.
Arrange slices of ginger on the cheese and sprinkle with the thinly sliced onions. Egg wash the edges of pastry, and wrap around the cheese seal.
Place on a baking tray, egg was and sprinkle with sesame seeds.
Allow to rest in the refrigerator for 30 minutes.
Bake in oven at 225°C, until the pastry is golden brown and crisp.
Allow to rest a little, then serve as an individual portion, with an accompaniment of Karimix Citrus & Lemongrass Sauce.