Burmese Prawn & Noodle Soup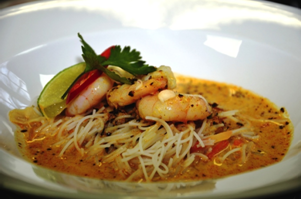 Courses: Main
Serves: 10

Ingredients
400g prawns; Shelled, uncooked butterfly
600g vermicelli noodles; Rehydrated
20g red peppers; Finely sliced
60g beansprouts
Coriander to garnish
Lime wedges
For the Soup
800g coconut milk
200g water
4g salt to taste, if required
Instructions
Mix Karimix Kaffir Red Soup Paste with coconut in a saucepan and bring to a simmer.
Boil water and blanch peppers and sprouts for a few minutes. Drain and leave aside.
Use the same water to cook prawns until just cooked. Drain and put to one side.
Add water to the soup pot.
Rinse noodles with hot water, mix with beansprouts and red peppers and serve into small bowls.
Add hot soup, add prawns on top with a wedge of lime and garnish with coriander.
Tip:
Use
Karimix Kaffir Red Soup Paste
to marinade haddock, with some thinly sliced lemongrass and bake.