Chicken Madras by Somerset Foodie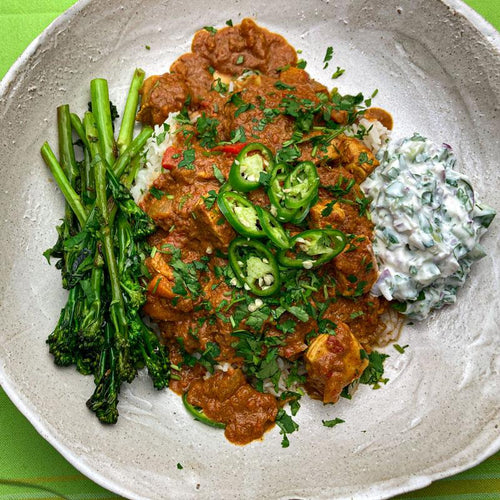 Thanks to Somerset Foodie for allowing us to feature this recipe. Please click here to see the original.
Everybody loves a good curry and our centuries old love affair with Indian food is as strong as ever. I've met quite a few Western trained Indian chefs who have all told me how tricky it is the master the art of great Indian food. Balancing out the flavours requires such skill.
If you want to mix it up a little, you can make this same recipe using the Jalfrezi Curry Paste, Tikka Masala Curry Paste or the Tandoori Curry Paste. You could also add in chickpeas, potato, green beans, aubergines, anything you like really. 
Courses: Main
Serves: 4
ients
4 x Medium Sized Skinless Chicken Breasts
175g Madras Curry Paste
2 x White Onions, finely diced
2 x Red Peppers, finely diced
2 x 400g Cans of Chopped Tomatoes
250ml Chicken Stock
2tbsp Greek Yoghurt
Salt
Fresh Coriander
Fresh Green Chillis (optional)
For the Cucumber Raita
275g Greek Yoghurt
A little water
1/2 Cucumber, seeds removed and diced finely
1 x Red Onion, finely diced
1tsp Sugar
1tsp Salt
1tsp Cumin Seeds
A small handful of fresh coriander, chopped
A small handful of fresh mint, chopped
Instructions
Dice the chicken breasts into bite sized chunks and massage 75g of the curry paste into them. Stir in two tablespoons of yoghurt and leave to marinade for 20 minutes.

Whilst the chicken is marinating, dice up the white onions. Heat up a wok or deep sided frying pan, with a little oil and fry the onions. After 3 or 4 minutes, add in the diced peppers.

Fry the onions and peppers until the onions are lightly golden and the peppers are soft. Add in the rest of the jar of curry paste and continue to fry for a further 2 to 3 minutes.

Now add in the 2 cans of chopped tomatoes and the chicken stock. Bring up to a boil and gentle simmer for around 20 minutes. Now make the cucumber Raita. If your Greek yoghurt is very thick, loosen it with a little cold water. Then add in the remaining ingredients and stir together.

After 20 minutes or so, add in the marinated chicken with all the yoghurt. Stir this through and continue to simmer for 10-15 minutes until the chicken is cooked through.

Serve with basmati rice a sprinkling of fresh coriander.