Chicken Satay Skewers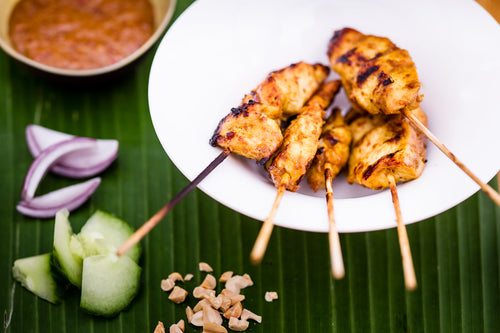 Courses: Snack
Serves: 20-30 pieces
Prep Time: 30 minutes
Cook Time: 2-3 hours

Ingredients
300g lean chicken
25ml corn or peanut oil
75ml Karimix Satay Sauce
100g cucumber wedges
150g diced red onion pieces
300g cooked rice
Salt and pepper to taste
For the sauce
100ml coconut cream
50g peanut butter
Instructions
Cut the chicken into thin strips suitable to thread onto wooden skewers.
Marinade the chicken pieces for 2-3 hours in Karimix Satay Sauce, along with the corn oil.
Make up the sauce by combining all the ingredients together. Bring to a boil in a saucepan. Add additional coconut cream if a little thick.
Thread the chicken onto skewers and chargrill BBQ until cooked.
Compact hot rice into a square dish. Allow it to cool, then cut into 20mm cubes.
Mix dipping sauce ingredients together well in a bowl.
Server on a platter with a bowl of dipping sauce, diced red onions and cucumber pieces.
Tip:
 As an alternative, try using pork or prawns instead!