Citrus and Lemongrass Dip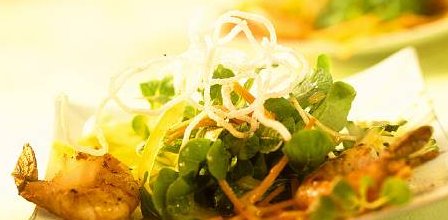 Courses: Side
Serves: 4

Ingredients
80ml Karimix Citrus & Lemongrass Sauce
50g mayonnaise
1 tbsp light olive oil
5g coriander leaves chopped
Add dip to stir-fry
100g prawns or chicken strips
40g fresh watercress leaves
20g finely grated carrots
10g vermicelli
Oil for frying
Instructions
Mix Karimix Citrus & Lemongrass Sauce with mayonnaise and olive oil together in a bowl.
Add chopped coriander leaves and stir in well.
Chill for an hour.
Stir-fry
Fry prawns or chicken strips in oil until cooked
Fry vermicelli until crispy.
Mix chilled dressing with prawns/chicken and toss it well with watercress salad leaves and grated carrots.
Garnish with fried vermicelli and serve.
Tip:
     Use to marinade left-over chicken or as sandwich filler. You can also serve as a dip for various crudités or as an accompaniment to grilled prawns, fish in batter, fried scampi or baked salmon.