Coconut Chicken with Jalapeno Ginger Jam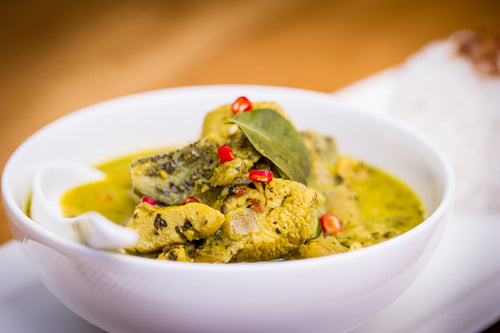 Courses: Main
Serves: 4
Prep Time: 2 hours
Cook Time: 30 minutes

Ingredients
300g chicken; Cut into long strips
60ml coconut milk
5g desiccated coconut
50g baby corn; Halved length-wise
80g onions; Cut into fine strips
20g vegetable oil
50g unsalted cashew nuts
8g fish sauce
4g coriander leaves; Chopped coarsely
Instructions
Marinade chicken with Karimix Jalapeno Ginger Chilli Jam, coconut milk, desiccated coconut and fish sauce.
Brown cashew nuts in a hot frying pan. Remove and leave aside.
Add oil in wok and fry onions and baby corn for about 10 minutes on high heat.
Drain chicken and brown in wok, then add marinate to simmer gently.
Add salt and pepper to taste.
Mix in cashew nuts and coriander just before serving.
Serve with salad, noodles or rice.