King Prawns with Mango Salad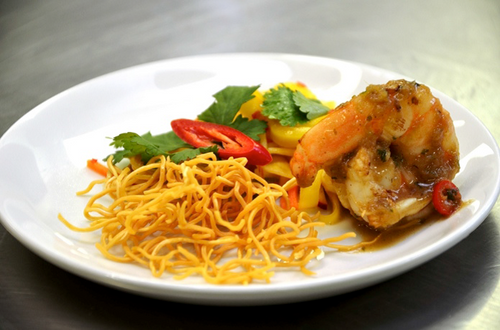 Print 

Courses: Snack
Serves: 10
Prep Time: 40 minutes
Cook Time: 20 minutes

Ingredients
500g king prawns, raw, and butterfly

120g Karimix Citrus & Lemongrass Sauce

4g salt

½ lime zest

5g lime juice
For the Mango Cucumber Salad
100g mango, firm slightly under ripe, shredded

100g cucumber shredded

60g courgettes shredded

10g spring onions finely sliced

40g red onions shredded

40g Karimix Citrus Lemongrass Sauce

10g coriander leaves

80g apple shredded
10g lemongrass finely sliced
5g lime juice
½ lemon zest
Salt
Instructions
Marinate the prawns with

Karimix Citrus & Lemongrass Sauce

, salt and lime zest

for 20 minutes.

Meanwhile prepare mango salad by mixing all shredded fruits and vegetables together.

Add

Karimix Citrus Lemongrass Sauce

, lime zest and lime juice with the salad

and mix well. Keep refrigerated until ready to serve.

Heat up oil until hot, Make noodles into little nests and fry until crispy but not brown.

When nests are cool, add some mango salad with nest on top.

BBQ prawns over a hot charcoal grill until brown. Place prawns on nest and garnish with lemongrass and coriander.