Malaysian Gado Gado Salad by Somerset Foodie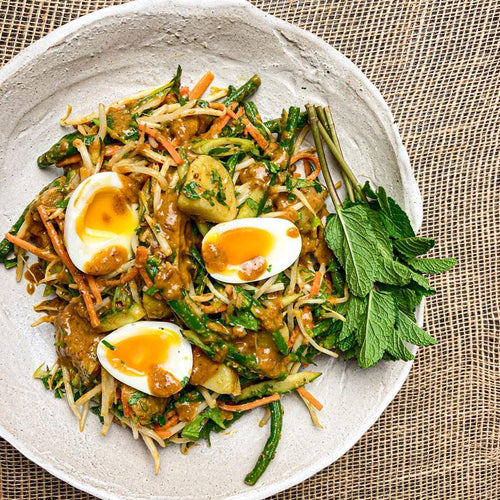 Thanks to Somerset Foodie for allowing us to feature this recipe. Please click here to see the original.
Courses: Main
Serves: 4
Ingredients
For the Peanut Satay Dressing
20g

 Crunchy Peanut Butter

6g

 Sesame Oil

40g

 Rice Vinegar

40g

 Plum Sauce

 

(or sweet chilli sauce or just sugar)
5g Minced Garlic
10g Minced Ginger
10g Cold Water
For the salad
180g French Beans, blanched in boiling water until tender
500g New Potatoes, boiled and cut into chunks
2 Carrots, peeled and thinly sliced into strips
120g Bean Sprouts
½ Cucumber, deseeded and sliced
2

 Fresh Eggs

Shrimp Crackers, shallow fried in hot oil (optional)
Small Bunch of Fresh Coriander, finely chopped
Salt
Instructions
1. Bring a large saucepan of salted water to the boil. Trim the top of the beans and drop them into the boiling water. Cook for around 2-3 minutes, you want the beans to be just tender and still a little crunchy. It's important not to overcook them so keep a close eye on them and take one or two out to test them. Once they're ready, remove with a slotted spoon and cool them down as quickly as possible under cold running water.
2. In the same saucepan of boiling water, cook the potatoes. I've used new potatoes which I've cooked whole, leaving the skin on. Once cooled, new potatoes will need chopping in half or in quarters, depending in their size.
3. Peel the carrots and slice them into thin strips. 
4. Boil the eggs for around 6 minutes if you like the yolk to be still a little runny, longer if you prefer them to be set hard,
5. To make the satay sauce, weigh out all the ingredients and mix together.
6. To assemble the salad, mix all the salad ingredients together with the chopped coriander, dress with the satay sauce and gently mix again. Serve with the boiled eggs and shrimp crackers.