Mussaman Roasted Cod with Tomato Spiced Noodles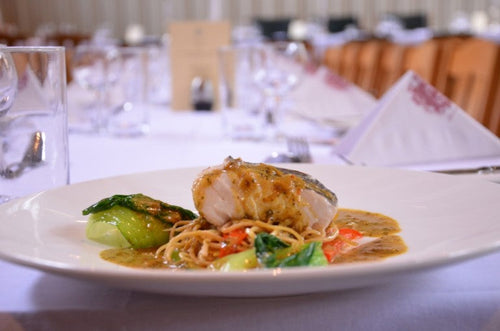 Courses: Main

Ingredients
Cod fillet, scaled and pin boned (allow 6oz piece per portion)
Oil for frying
Shallots, diced
Sweet red peppers, diced
Medium egg noodles
Fresh lime juice
Steamed Chinese cabbage leaves to serve
Instructions
Rub the cod all over with the Karimix Thai Mussaman Curry Paste sauce and allow to marinade for 20 minutes.
Stir fry the shallots and sweet peppers in a little oil.  Add 2 tablespoons of Karimix Thai Mussaman Curry Paste and 2 tablespoons of coconut milk and bring to a light simmer, do not boil.
Roast the cod in a hot oven, allowing to rest before serving.  Meanwhile, cook the noodles and toss with Karimix Tomato Chutney.
To serve, mound the noodles onto a plate.  Place the cod fillet on top and dress with the sauce.  Finish the dish with a squeeze of fresh lime and steamed Chinese cabbage leaves.