Pad Thai by Somerset Foodie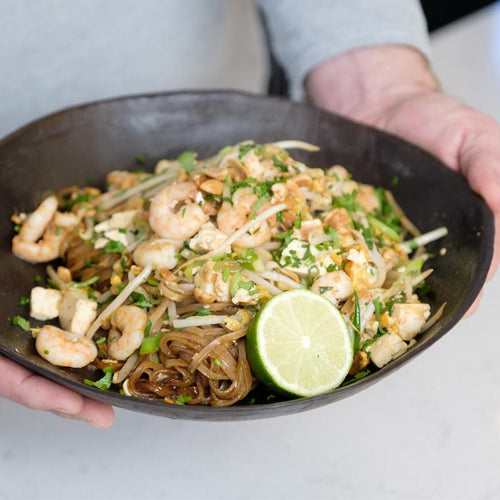 Thanks to Somerset Foodie for allowing us to feature this recipe. Please click here to see the original.
Ingredients
120g 3mm or 5mm Flat Rice Stick Noodles 
70g

 

Karimix Pad Thai Sauce or Maesri Pad Thai Sauce if you want the dish to be vegan
140g Prawns
100g firm tofu, chopped into small cubes
2 Eggs, cracked into a small bowl
100g Beansprouts
2 Spring Onions, sliced finely lengthways into strips
¼ Bunch of Chives, finely chopped
Sprig of Fresh Coriander, chopped
50g Blanched Peanuts, roasted and crushed
1 Lime, cut into wedges
Fussels Cold Pressed Rapeseed Oil
Instructions
Start by heating some cold pressed rapeseed oil and add your noodles with a splash of water and steam/fry them until the water dries up and then add the Pad Thai Sauce. Keep cooking until the noodles are almost cooked, but still a little chewy. Push the noodles to the side of the pan.

Add a little more oil to the pan and fry the eggs and the prawns and tofu in separate sections of your pan. Cook the eggs until they have set on the bottom and then scramble them up, but keep cooking them until they have dried and won't stick everything together into a big noodle cake. The tofu and prawns should now have developed a little colour.

Now it's time to combine everything in the pan, add the beansprouts, spring onion and peanuts and stir fry until everything is combined and the beansprouts have warmed through. Tip everything out into your serving dishes and garnish with chopped chopped chives, coriander and lime wedges.