Rib Eye Steak with Chimichurri, Flat Breads, Tomato and Onion Salad by Somerset Foodie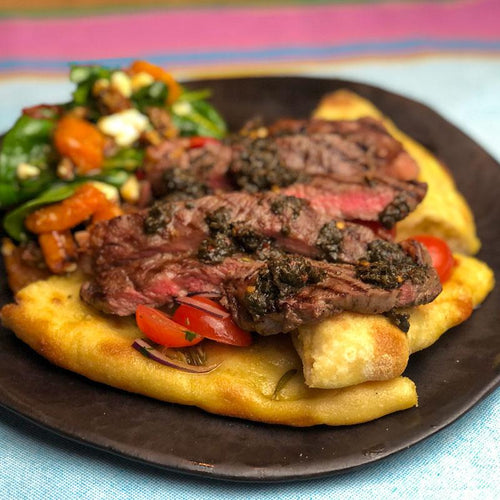 Thanks to Somerset Foodie for allowing us to feature this recipe. Please click here to see the original.
Courses: Main
Serves: 2
Ingredients
1 or 2 Steaks, depending on how hungry you are (rib-eye, rump, sirloin - your choice)
1 x Pinsa Romana
125g Cherry Tomatoes, halved
1 x Red Onion, finely sliced
Salt & Pepper
100ml Chimichurri Sauce
Instructions
Remove your steaks (an hour before you cook is great) from the fridge and season with salt and pepper.
Defrost the pinsa romana.
Pre-heat your oven to 250°C (or as hot as it will go!)
Combine the sliced tomatoes and red onion in a bowl and season with salt. Drizzle over 3 or 4tbsps of extra virgin olive oil and leave on the side. After 10 minutes you will end up with something that looks like a tomato and onion flavoured oil.
Heat up your pan until it's smoking hot.
Sear the steaks in

the hot pan until cooked to your preference.

Drizzle olive oil all over the pinsa romana and massage it evenly across the bread, sprinkle with sea salt.
Place the pinsa romana in the hot oven and cook for 3-4 minutes, until golden.
Once the steaks are cooked, remove from the pan and leave to rest for 3-4 minutes
Remove the pinsa from the oven, cut into wedges and arrange on your serving plates. Scatter the tomato and onion salad, with all the oil and juices across the bread.
Carve the steaks into strips, pour all the resting juices over the bread and tomatoes and lay the meat across.
Drizzle with chimichurri sauce, a little more extra virgin olive oil and eat with a salad on the side.