Zingy Watermelon with Feta and Peppers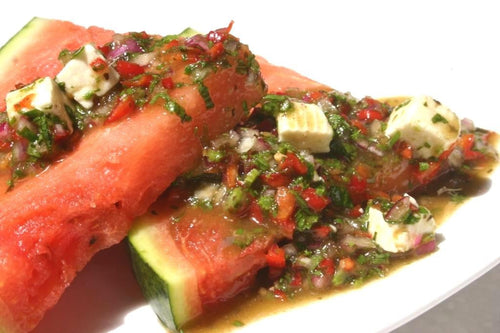 Courses: Starter
Serves: 8-10 as a starter

Ingredients
Water melon 2 wedges per person
For the Dressing
3 tbsp (3 x 15ml) Karimix Citrus & Lemongrass Sauce
1 tbsp (1 x 15ml) Maple syrup
Zest of one lime and juice of two
50g red peppers finely diced
50g red onion finely diced
2 tbsp fresh herbs, Coriander, parsley and celery leaves finely chopped
100g-200g feta cheese diced or crumbled.
Salt and pepper to taste.
Instructions
Remove excess seeds from the melon.
Make up the dressing by combining all the ingredients together.
Spoon a little over each portion, garnish with rocket leaves and serve.