Thai Chicken Khao Soi Soup by Somerset Foodie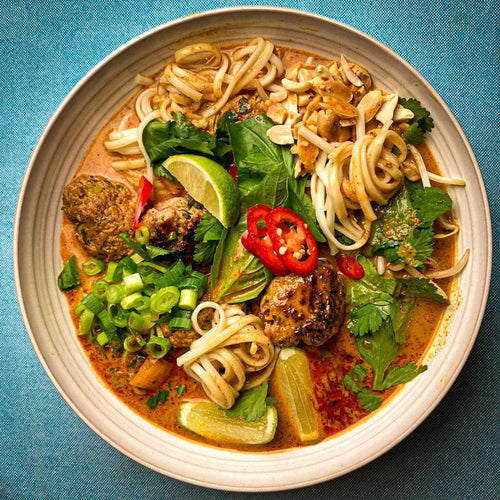 Thanks to Somerset Foodie for allowing us to feature this recipe. Please click here to see the original.
Courses: Main
Serves: 4
Ingredients
For the Chicken Meatballs
750g Chicken Mince (or Turkey mince)
A 2-3 inch piece of fresh ginger, finely grated (don't be shy with the ginger)
4 Cloves of Garlic, finely grated
2 Spring Onions, finely sliced
1tbsp Coriander Stalks, finely sliced
Zest of 1 Lime
Salt & Pepper
A little cold pressed rapeseed oil for frying
For the Khao Soi Soup
4tbsps Thai Red Curry Paste
400ml Coconut Milk
500ml Chicken Stock
1 x Yellow Bell Pepper, diced into 1'' pieces
For the Noodles
400g Udon Noodles (or Rice Noodles or Ramen Noodles)
For the Toppings
100g Unsalted Blanched Peanuts, toasted and lightly crushed
1 Red Chilli, finely sliced
Bunch of Fresh Coriander, roughly chopped
Bunch of Fresh Basil, leaves picked and torn up
3 x Spring Onions
1 Lime, cut into wedges
120g Bean Sprouts
180g Tender Stem Broccoli, steamed until tender
Instructions
 To make the meatballs, combine all the ingredients together in a bowl, give them a good mix and form them into little golf ball sized balls.
Prepare all the toppings - roast the peanuts, steam the broccoli, slice the chillies, slice the spring onions and cut the limes. Also, boil a kettle and make up the chicken stock.
Bring a large pan of water to the boil to blanch the noodles.
In a wide pan or wok, fry the meatballs in a little oil so they are nicely browned. Remove from the pan and set to one side. You may find it easier to cook them in batches to avoid overcrowding in the pan.
In the same pan, fry the yellow pepper for 2 or 3 minutes and then add the Thai Red Curry Paste. Cook this for a few minutes to release all the flavours then add the coconut milk and chicken stock.
Bring the soup to a gentle simmer and add the meatballs back in. Simmer for around 7-8 minutes.
Blanch the noodles according the packet instructions and drain. Then divide them between 4 bowls. Add in the blanched broccoli and a small handful of bean sprouts.
Ladle over the soup and meat balls then top with chopped coriander, ripped basil leaves, peanuts, spring onions and chilli. Squeeze over some lime and get stuck in.